Cash Flows are critical for the successful management of projects, programs and portfolios. They help to plan the spend and track forecast spend against actual spend.
How to input to Mastt
Cash Flows can be entered in Mastt in two ways, either at the contract level or Budget-level.
Contract Level
Step 1: Get excited and go into the Cash Flow section of the Cost Module!


Step 2: Dive down into the cost plan until you find a contract you've already set up, click on the three blue dots next to the contract then click 'Edit Contract Cash Flow'.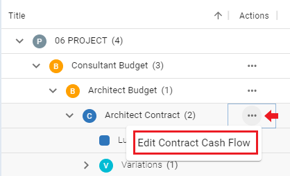 Step 3: Enter the Contract Cash Flow amounts in the corresponding month/year and click 'Confirm'.

---

Budget Level
Step 1: On the Cash Flow page, look for the gear or setting icon to access the options. Select the Budget Cash flow entry and toggle it on.

Step 2: To edit the Budget Cash Flow, access the three dots menu and select "Edit Budget Cash Flow." The orange line visually indicates that this is a Budget Level Cash Flow.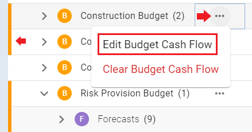 Step 3: Edit the budget cash flow and click Confirm to update.

Note:
Adding a Budget-Level Cash Flow disables the ability to add a Cash Flow at a Contract-Level.

To edit a Contract-Level Cash Flow, the Budget Cash Flow must be $0.